bossPrefs - iPhone 2G,3G,3GS Apps

Download From Cydia.

To run any Cydia applications or games on your iPhone or iTouch, you must be jailbroken first.

Search "bossPrefs" in Cydia

From the developer's site: "This native iPhone app is an offshoot of "Services" by Chris Hoffman. The app expands on services by adding some more options and focusing on being a complete preferences replacement. After installing BossPrefs you should be able to remove Customize, SMBPrefs, and Settings icons from your desktop."
If you don't have this app yet, the go get it!!
Let me tell you this is the first tool that i install on a jailbroken touch or iPhone. Boss Prefs makes it easy to get all the info you need with a touch of a couple of buttons. Let me explain in more detail.
Main Screen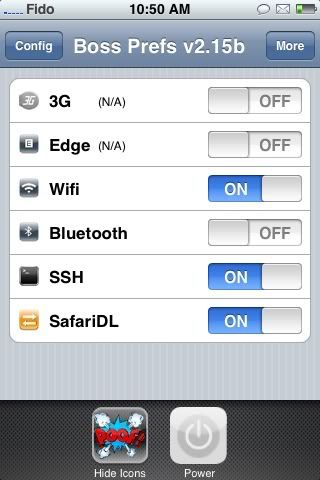 Here you have all your toggles,additional toggle buttons can be downloaded from cydia. From this screen you can quickly toggle your 3g, edge, wifi, bluetooth, ssh, etc. Not only that it will also
provide the ip of edge, 3g, and wifi right here on the same screen.
Here is the configuration menu which you can customize the
visual look of your main screen.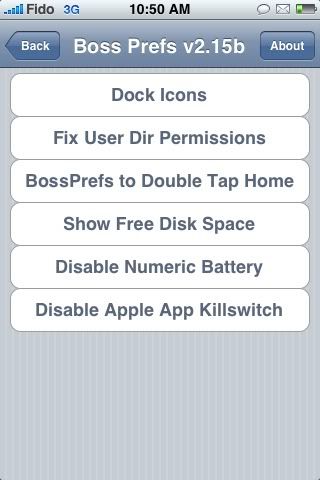 This is the MORE Section located on the top right corner of the main screen.
Here you have the following Settings:
Dock Icons:
Allows you to add icons to your boss prefs system tray.
Fix User Dir Permissions:
Quick fix for symptoms such as Mail app crashing, summerboard themes not working, notes not savings and other permission issues.
BossPrefs to Double Tap Home:
Allows you to launch BossPrefs by double tapping the home key(round key)
Show Free Disk Space:
Shows the total space in use on your phone.
Enable numeric Battery:
One of my Favs, shows your battery level in a 0-100 percent meter.
Disable Apple App Kill switch:
If apple dislikes an app(for whatever reason), they can remove it from your device using a kill switch function.
Hide Icons - Self Explanatory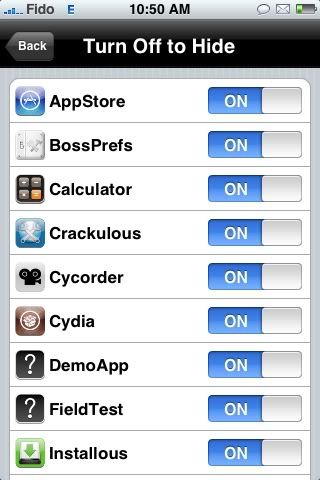 Power Manage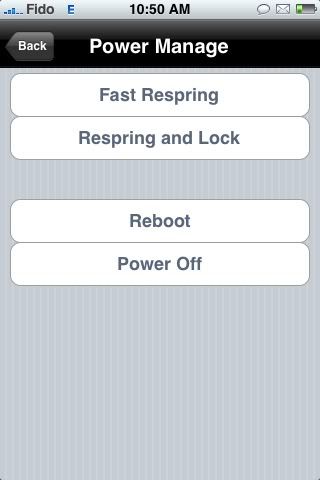 enjoy cydia apps.....